Hi everyone!
Today you can find me
hanging out with Kami
over at
Sweet Charli
! This is my first ever feature, and I'm so excited to be sharing my appliquéd bag tutorial with everyone.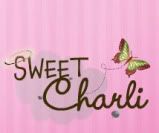 Check out her blog - I promise you'll love it! It's one of my very favorites...