I checked out this book from the library this week on a whim. A total whim, but I am so glad I did.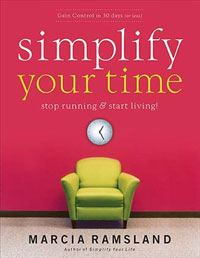 This book is incredible. I pride myself on my organization and productivity, and I'm pretty good at it. But, I'm also a time management junkie, and I love to learn more. It isn't too often that I find a book that really makes me say, "Wow! That would make a big difference for me!" but this one has. Multiple times.
The book is divided into 30 sections, for the 30 days of a month. The author has a habit to change or a suggestion to fix in each one. Not all of them apply to me, but many of them do.
I'm going to take one topic and attack it each week. It isn't the beginning of a year, or even a week, but I'm just going to jump in. Feel free to jump with me!
This week's challenge is:
I'm almost never late. In fact, I'm often even earlier than I need to be. That's not my issue here. My issue is that even though I'm early, I always feel like I'm rushing to get out the door. Ramsland attributes this to not handling small things ahead of time (like getting gas), trying to finish just one more thing before you head out the door (guilty), or you don't schedule enough time to get out the door.
I'm mostly guilty of the first two. It's ridiculous that every time my gas light comes on, it surprises me. I wait to get money to pay someone until the last minute. I almost NEVER put the directions to where I'm going in my calendar so I have them right away, and I even sometimes don't put the name of the person I'm meeting when I get there. And I have a lot to do during the day -- if I can get to a few more things, surely that will be a good thing, right?
Wrong. All of that adds up to me rushing. A lot. Which makes me anxious, which I'm trying to avoid. So... my challenge for this week is not only to show up on time, but to leave myself a cushion so that I'm not worried as I travel. Where it won't matter that I hit every single red light between here and my destination.
In future weeks we'll talk about what to do with your extra time if you arrive a little bit early, but for now, the goal is to get out the door on time and travel stress free.
(I think this post is making me look disorganized, which makes me anxious, but I'm going to focus on the fact that you're my friends and you won't judge me too harshly).
I'd love for you to join me for this challenge series. And get the book from your library or the bookstore. This is one I think I'm going to invest in. Worth. It.