I have been neglecting my blog again, but I am not going to apologize. I'm just going to try to get back in the saddle. It's been a busy month for us, but everyone else has been busy too!
This has been a fun year for me because so many of my friends are having babies! I saw a (slightly inappropriate) very funny e-card the other day that made me laugh because it's so true: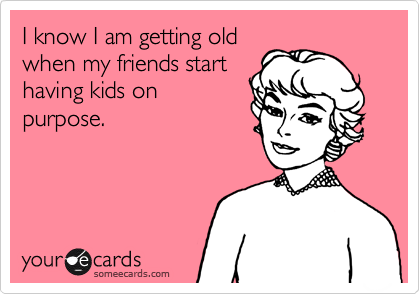 It does seem strange that so many of my friends are now having babies. Strange, but fun!!
I told you a little bit about my friend Erika's baby shower
here
, but there's so much more to tell. I went to the shower her family threw for her, and then some friends also gave one for her.
When Erika found out she was pregnant, I knew I wanted to make this baby a quilt. Funny enough, she actually told me she was pregnant at my wedding. On the way to the airport for our honeymoon, I suddenly said to Zac, "Oh! I think Erika is pregnant! I need to call her!"
I didn't keep it a secret that I was making her a quilt, and she looked through a lot of my books to see what she liked. She gravitated toward traditional quilts, but also ones with bright fun colors. The added complication is that they didn't find out if the baby was a boy or girl, which made picking the fabrics more complicated.
At this point, I'll say that I knew from day one that the baby was going to be a girl, even though everyone else thought it was a boy!
I was inspired by this quilt that I found on Pinterest:
I love the clean lines and the stripes. I love the straight line quilting on this one, even though I didn't end up going that route.
I made up this pattern by drawing it on a piece of paper and making the stripes 6 inches wide. I used a quarter yard of each fabric which kept the cutting to a minimum. I sewed the six stripes together, then cut them and added the alphabet stripe. This quilt top went together in less than an hour - it was so fast. If anyone is interested in a pattern or more detailed instructions, I"m happy to put one together!
Here's my finished product:
The back
I quilted this on
my grandmother's long arm quilting machine
, which is why the quilting looks awesome. The best part (that you can't see here) is that on the white and yellow stripes, I wrote "Baby Robbe" in the quilting. I was pretty tickled with myself when I figured out I could do that, and even Gramma was impressed!
I gave this to Erika at her family shower. Look how darling she is.
This girl didn't even look pregnant from the back. She is so tiny. And I don't hate her for that at all.
She loved it, and I do too! A perfect play mat for a baby (that I know is going to be a girl... more on that later!).
Anyone else bombarded with babies lately?
Linking to: